REPLACEMENT MAILBOX OUTER SHELL
$100.00
Sometimes life happens and you need to replace your mailbox outer shell... Our design allows for simple replacement should something happen. Please specify your address numbers upon order and let us know if there were any other custom aspects of your mailbox. This listing is only for the outer metal shell for the Waldo, Waldo XL, and Bailey models.
Item ships in 3-4 weeks
Mounting hardware will be included.
---
Customer Reviews
09/29/2020
Michael P.
United States
I recommend this product
Great mailbox
The box looks beautiful and stylish, and it works perfectly. The lighted numbers are very helpful for our house, which is deeply shaded. The folks at Deus Modern were also helpful to work with.
09/15/2020
Jaime I.
United States
I recommend this product
Very happy of products
I love this products very well made and beautiful
06/05/2020
Dennis M.
United States
I recommend this product
Exceptional Quality Construction
Unfortunately I had to order an exterior shell for my mailbox since it was hit by a truck. Luckily due to the quality construction of the post/mailbox, just the outer shell was damaged! I was heartbroken when it was damaged but Deus Modern promptly made a new outer shell for and it's as good as new again! I continually receive positive comments from neighbors and passerby's about the sleek stainless steel modern design. They love it as do I! Thank you for taking care of my replacement shell. Always a 5 star experience with Deus Modern!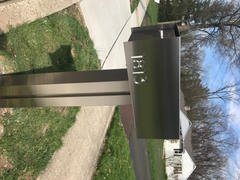 02/11/2020
Dennis M.
United States
I recommend this product
Fabulous Product!
I was heartbroken when my stainless steel mailbox was hit by a truck! Everyone commented on how much they loved this modern looking mailbox which accented my modern home. At first I thought I would have to replace the entire mailbox. The staff at Deus Modern were extremely helpful and explained that if it was the just the outer stainless steel shell that was damaged, I could replace just that part. Luckily it was just the out shell that was damaged and was able to re-order a new one with a discount which I very much appreciated!! The post and mailbox are quality items and built to last! I continue to receive compliments from people I don't even know about the mailbox and how they have never seen one like that before. Thank you Deus Modern team for you assistance and support - I truly appreciate it! Thanks again for providing a 5 star experience!!
08/23/2019
Jeff D.
United States
I recommend this product
Exceptional Products & Service
There is only one product we even consider for our custom homes. Deus is in a league of their own. This is the best design & quality you will find from a product and the group as a whole. Thank you
Related Items